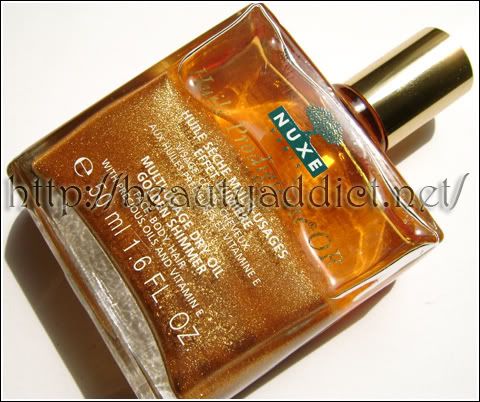 Since the summer is already here, I think it's time to write about some products for summer and here's my first summer review – Nuxe Prodigieuse Nuxe Multi-Usage Dry Oil Golden Shimmer! This is definitely my #1 product when summer arrives! :)
This is a multi-usage product, it can be used for face, body and/or hair. I prefer to use it when I get some tan because it looks more beautiful that way – it gives my skin shiny effect. It takes only small amount if it to apply it all over the skin and the most amazing about it is that it's not typical oil, it's dry oil which means its absorbed immediately when applied on skin! I just love that! No oily trace of it on my skin. :D  Beside all that, it has a fantastic smell!
You can get this product in any pharmacy which sells Nuxe products. The regular price for 50 ml (1.6 fl.oz.) bottle is a bit less than $40. True, not cheap but I think it's worth every penny since it last for quite some time. So, if you're looking for a new summer product which will enhance your skin tan, I think you should try this product as well. :)
Rating:

Check out how it looks on my (currently pale) skin!
unfortunately, haven't managed to picture those gold particles but will take the photo again (natural light)

Vesna