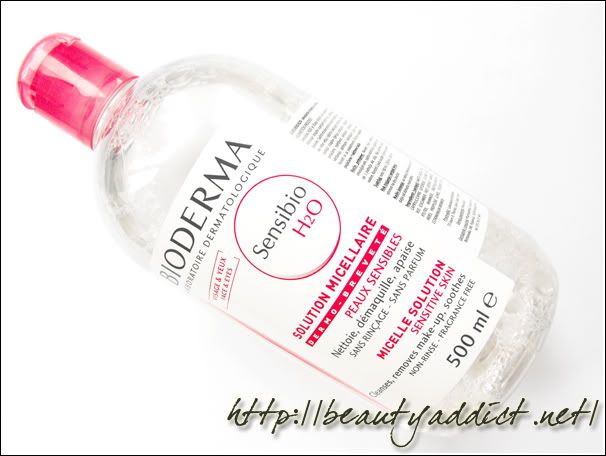 Last year I wrote review about Vichy micellar solution, but this time, since I wanted to try something new, I purchased Bioderma Sensibio Micelle Solution. Actually, I didn't wanted to buy Vichy again since that products wasn't something which threw me off my feet, but of course I had to try another micellar product so I got this one since I've heard only good reviews about it.
Here's waht it says:
Sensibio H2O gently cleanses and removes make up from face and eyes. The micelles contained in its formula effectively micro-emulsify impurities while maintaining the cutaneous balance. Soothing active ingredients prevent the skin feeling irritated. Excellent cutaneous and ocular tolerance.   
You can get this product in 3 sizes: 100 ml, 250 ml and 500 ml. I have the last one since it's the most affordable. The smallest one is also the most expensive one when compared to the 500 ml bottle though it could be good if you just wanna try this product and don't wanna get the largest size.
To make it short, I really like this product – it's better than Vichy and cheaper as well and I'm sure I'll continue using it in the future. I also use it when I do some make up work and so far no one had any issues with it. :)
The only thing I don't like about it is the taste of it. After I accidentally taste it while cleaning my face, it looks something like this. :D Ok, a bit dramatic but almost. :D
It is affordable – 500 ml for only $20. I'd say it's a deal when it comes to good skin care products. So, if your skin is sensitive, gets easily irritated and so on – try Bioderma Sensibio H2O. I'm sure you'll like it. :)
Have you already tried it? :)
Vesna