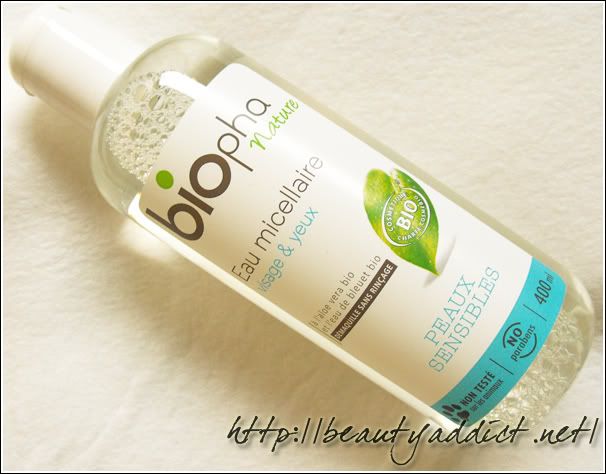 Few weeks ago I receive a new micellar water which I started using immediately. This is the 3rd micellar water I've tried, you could read my reviews on previous two – Vichy and Bioderma.
Biopha is a French brand which arrived to Croatia few months ago and you ce francuski brand koji je u Hrvatsku stigao prije nekoliko mjesec i njihove proizvode možete pronaći u dm drogerijama (i nekim ljekarnama)an find their products in dm drugstore and few other private farmacies.
An organic beauty meets a strict specification that excludes the use of:
- Plastic harmful (PEG, silicone …)
- Synthetic preservatives such as parabens or phenoxyethanol
- Fragrance and artificial coloring
- GMO (Genetically Modified Organisms)
- radiation processing
- Raw material of animal origin
- Aluminum salt
Biopha micellar water comes in a suitable bottle with a firm cap which can not open easily. That means there is no risk of getting any product spilled if you're carrying with you for any reason. I've been using it for at least two weeks now and I've tried it properly. I use it to clean my face before going to bed and to remove make up. I haven't noticed any downsides to it so far, it removes really everything. Even mascara and gel liner (mascara isn't such a big deal since I'm using non-waterproof mascara, but gel liners can be a bit stubborn).
All in all, I like that this product is gentle but does its work when it has to. I have combination skin with some dry patches here and there on my face and I haven't noticed that this products driesd out my skin. Also, I've been using it around my eyes without any issues, I even get some product into my eye from time to time and there was none reaction to that. The only odd thing about it is the smell of it. It isn't bad. It's just different. I've noticed how their makeup remover has also that same smell so I supose it's Biopha scent. Luckily, it has no taste (unlike Bioderma micellar water which tastes really yuck :D ).
Recommended price for this product is approx. $14, product contains 400 ml which is really a good deal (Vichy micellar contains also 400 ml but it costs $25!). So far I've spent only 1/5 of product. :)
All in all, I tend to use this product in the future as well. Hopefully it will arrive to dm drugstores too so I'll find it easily. At the moment you can find other Biopha products in dm drugstore.
Have you tried anything from Biopha?
Vesna
*PR sample