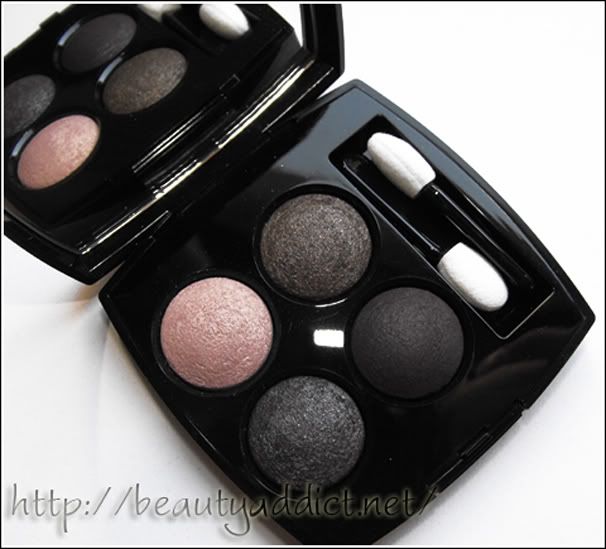 During my Chanel makeover I could pick 3 Chanel products so I picked this quad. I probably wouldn't picked it if Babydoll from Šminkerica didn't convince me how good they are, well pigmented, etc. I eventually did chose them as my 3rd product but I was sceptic since my previous experience with Chanel eye shadows didn't end up well (you can read it here).
Enigma quad was launched in Fall 2010, and as far as I know, these are permanent since they are available at Chanel.com. I suppose I couldn't picked it if it wasn't available since I doubt that LE products are available that long.
As I mentioned, my Chanel eyeshadow experience wasn't great. But, I was pleasantly surprised with these and in the end I'm really happy I picked this eyeshadow quad. :)
Eye shadows arew well pigmented, though, I do use eyeshadow base since they do look better with eyeshadow base. Also, there might be some fall out, especially that micro glitter/shimmer so you have to be a bit careful when applying them. Also, these are better pigmented when applied with a damp brush / sponge applicator.
The thing that I really like about this quad is the combination of colors in it – they are mostly dark, but can be easily used for daily makeup, especially when applied dried since then they are less pigmented. Later a daily look could easily be turned into evening look by using any of the darker eye shadows (especially the darkest one) as an eyeliner. I have to add that those additional applicator you get with the quad are pretty useless – they are made of some sort of velvety material so they're no good for applying anything.
When it comes to lasting power – these are very good! Once applied, they stay there. Of course, eyeshadow base is included. Also, the colors don't fade.

(cooler natural light)
In general, I think that Chanel eye shadows are a bit specific and it took me some time to get what Chanel is when it comes to makeup. I don't know if you've ever studied Chanel's eyeshadow color range carefully, but you'll never see any screaming colors or anything way too vivid. All colors are somehow naturally looking, and that natural look is the key with this palette. Though the shades in it are darker, you'll never look like someone gave you a black eye. The colors are lighter so stronger makeup look can be achieved by layering colors. :)
Now, if you prefer eye shadows which are everything but natural – you should skip this palette. But, if you like smokey eye look shades, especially those perfect for daily and evening smokey eyes look which which still will look natural – then this palette is a good choice.
The thing that might bug you about this palette is retail price – in Croatia Chanel eyeshadow quads cost almost $80 (the last price when I was checking them). If you're an eyeshadow addict, like me, then getting this palette won't be a priority for you since it isn't actually affordable. But, if you're one of those person who use only one or two eyeshadow palettes and they use *all of it* – then it's worth getting.
All in all, I think that Chanel fans will love this palette (and probably already do). Here are more photos and my swatches after the cut!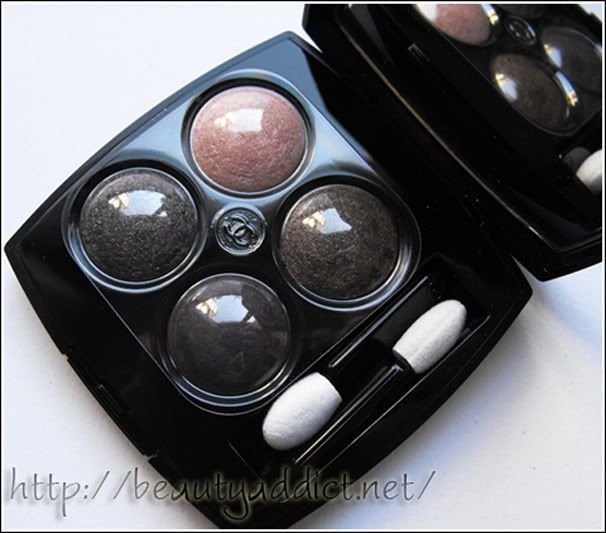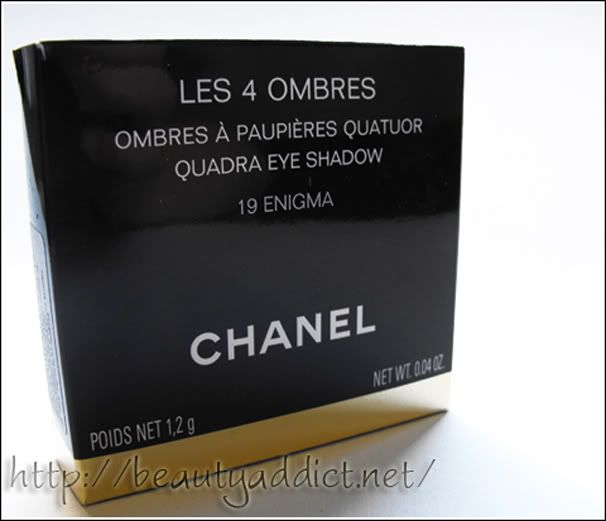 As you can see, there really isn't a big difference and it might not be noticeable, but with eyeshadow base they apply nicely and evenly. Also, micro shimmer is more visible with base than without. I might also add that the last shadow has a bit odd formula and it takes time to get used to it and work with it.

no eyeshadow base, natural light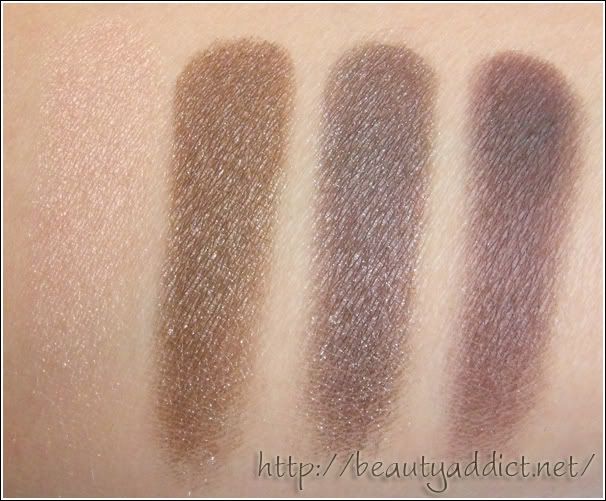 with eyeshadow base, natural light
How do you like Enigma quad? Have you tried, and if you have, how do you like Chanel eye shadows?  :)
Vesna