I couldn't wait until tomorrow so I'm posting my comparison today :D
In my previous post I mentioned that Below Deck is *the* shade at the moment, so, let's see if there's actually a reason for that or not. The main reason there is such hype over it is that it's very close dupe to discontinued shade called Channelesque.
If I had to guess which shade is in which bottle I probably wouldn't because they look quite identical The only difference is different font/text on the bottles. :D Though, there is a slight difference between these 2 – Channelesque has this strange formula which after some time separates in the bottle (at least a bit of some pigment does) so I always have to  shake it well before each use because if I don't – color on my nails won't be equal. But, let's get back to my photos: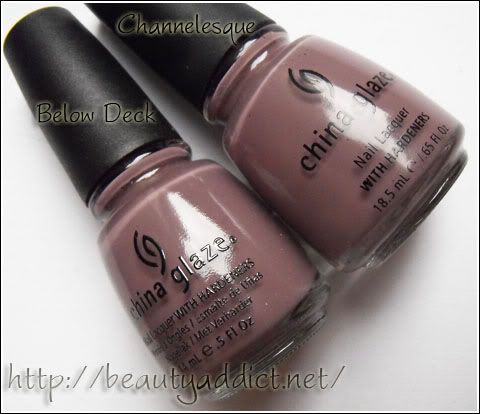 As you can see on the photo, Channelesque bottle looks slightly bigger and that's because it is – it contains 18,5 ml while Below Deck contains  "only" 14 ml. Not that I would notice that cause I never spent any of my nail polishes. :D
Though they look quite identical in the bottles, on my nails they do look a bit different. I applied one layer of each shade and I noticed how Below Deck is slightly darker than Channelesque. I really prefer how Below Deck looks like on my nails. Also, I don't know if there is any difference on darker skin tones, but on mine – and I'm NW15/20 for reference – there is some difference and it's more noticeable in person than on my photos.
(indoor light, flash)
I think you can notice how Below Deck has slightly more purple tones in it and how Channelesque is slightly lighter color.
Here's also one photo taken by the window and I think you can see how Channelesque is lighter though this color isn't accurate really: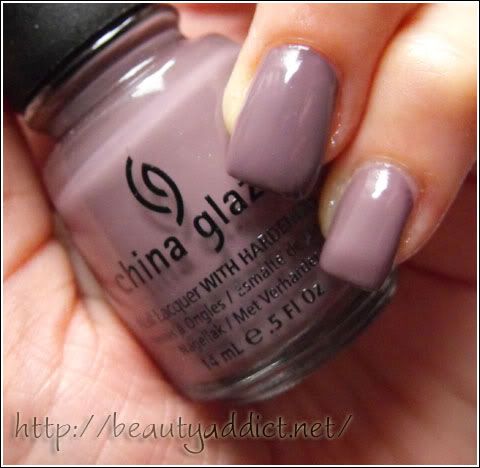 The bottle I have in my hand while taking photos is the one of Below Deck and you can see how more similar it is to Channelesque than to Below Deck. :D But it's also interesting how different it looks on my nails. :)
When it comes to the formula of these 2 shades, I prefer Below Deck. First, I don't have to shake it before use, and second, it takes only one layer to get that nice opaque color. Though, Channelesque is closer dupe when applied with two layers.
However, if you already have Channelesque you probably don't need Below Deck. But, I'm glade I have both shades so I could compare them. :)
How do you like these shades? Do you see any difference or am I only imagining? :D
Vesna