It's been a while (a couple of months, actually) since I told you about my favorite products, I decided to dedicate one post to products I've been using a lot lately. Of course, there are many other posts but I will try to tell you about them too, but now I'll focus on my THE favorite products in the last few months. :)
I try to mix different products, to add new ones every week so I could try and use them all more or less and that's why I have one big L'occitane box and one glass bowl where I keep them. They help me a lot with organizing my routine though you probably wouldn't say that once you see how that looks like. :D I'll try to show them to you this weekend.
On my photos you can see products I use really a lot lately and some of them have been reviewed and/or swatched so I'll link you to those posts.
I'll start with makeup since this is my favorite part of beauty products
Chanel Pink Explosion blush – I've been using this blush for months now and I keep going back to it. It's a perfect pink blush for cool toned girls and it can be used both in winter and summer. You can read my review here.
Everyday Minerals Best Friends blush – another blush I really love. It was a present I got from my dearest T. and I am so thankful for that! It's my favorite dusty rose blush which I just love! It reminds me of essence best friends blush which was unfortunately discontinued.
theBalm Meet Matt(e). Eyeshadow Palette – you can see my swatches here. I've been using it pretty much since I received it because it has lovely matte neutral shades and it is quite small so it fits in most of my makeup bags I own. It might seem a bit pricey – $34.50 – but I'd say it's a fair price considering what you're getting here – 9 eye shadows, 1 gram each. :)
Artdeco High Definition Foundation in 08 Soft Linen – remember the Artdeco Kaviar Gauche Collection Launch Event where I was makeup model for Derek Grillo, their MUA? This is the foundation he used on me and which he gave me after the event and since then I've been using it almost daily. I really love how natural it looks and how it evens my skin. Also, it looks great on photos! You can see the rest of the shades here, but I will review it and take some swatches for you.
MAC Fluidline in Blacktrack – my Holy Grail liner! Can't live without it! It's so easily applied and once applied it last for hours! No smuding or anything! If you want a perfect liner – try this one.
L'Occitane Pivoine Delicate Lipstick – I showed you this LE collection here, and now I'll just add how I find this shade perfect as daily shade, especially when you want a lipstick but don't want it too be obvious. It's actually like a lip balm which will enhance your natural lip color.
Bourjois Effet Smoky Liner in 74 Grey shadow – effet smoky are my favorite eye liners but this shade is the one I use the most. Perfect for every look you want to achive. I did show you swatches of the ones I have, but you can see them again  here – link.
Chanel Poudre Universelle Libre in 22 Roce Clair – my favorite loose powder, especially now when it's warmer and warmer and when my T-zone isn't in control as during winter time. My friend T. says it's her HG loose powder and I can't but agree with her. Though, I don't recommend it for dry skin or drier areas on your face.
Here are blush, lipstick and liner swatches. :)
Here are my favorite hair products. Actually, I think there aren't any other hair products I use. :D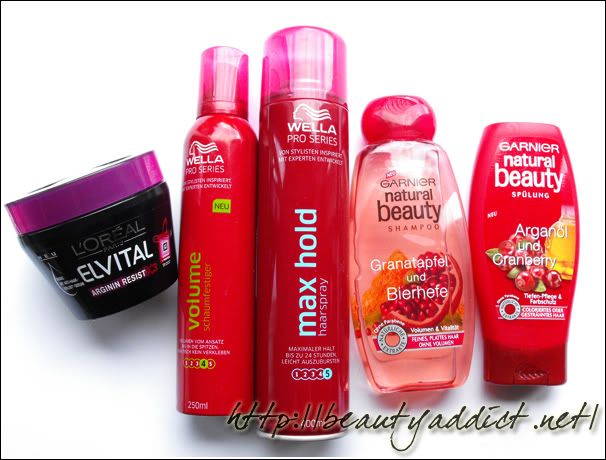 L'Oreal Elvital Arginin Resist Masque – I did write my review not that long ago, check it here. I love it! Smells deliciously!
Wella Pro Series mousse and spray – I used to buy cheap products in this range, but few months ago I decide to buy something more expensive since I was sick of sticky hair after using such products. Anyway, after trying Wella, I haven't purchased anything else!
Garnier Natural Beauty shampoo and conditioner – natural beauty product line has few shampoos and conditioners and I always buy different ones since I want to try them all. I really love these and my hair loves them as well. The ones you see on the photo above were purchased last week and so far – so good, as the others were.
And, few more products I'm ending this post with. :)
Zara Woman Blueberry edt – I love it! Fresh and light and smells like blueberry! It's also affordable – approx. $14 or $16, not sure right now but I'm sure I'm getting another Zara's edt.
Yves Rocher Riche Creme – I've been using it for a while now and I will write my detailed review this weekend so I won't tell you much now, but I will say that it saved me.
Yves Rocher Shower Creme  – you can see Grains de Cafe du Brasil on my photo above, but I've been using them all and I love them! At the moment I'm finishing the Cocoa one, but after that I'll start to use this one (it's my 3rd bottle I think). Try them if you still haven't, they're amazing!
Afrodita Ciuticle Removing Gel – my HG product when it comes to cuticles! I will review it as well, I would just like to take before/after photos prior my review. But, i will tell you that it saved my cuticles – it actually helps me to remove it properly. :)
And well, here are some of my favorite products lately. What have you been using? :)
Vesna