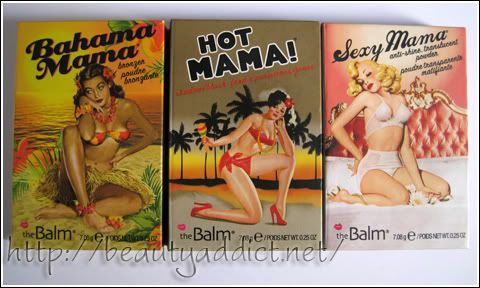 Bahama Mama, Hot Mama, Sexy Mama
If you are among those who love brands with attractive packaging, such as Too Faced and Benefit, then you might also notice TheBalm cosmetics :D! Although their selection is not large, which is still an advantage if you want to collect their entire collection, this brand really won me over, not just with the overall idea, cute vintage pin-up design, funny product names (Work is overrated, If you `re rich, I` m single) and cruelty free philosophy, but also with high quality multitask products. But not only they are cruelty free, i.e. that they do not test products on animals, but they just love animals, especially dogs, and they even have in their "management" small "honorary members" – their pets, and a "president" is a pug by the name of Buddy J, who owners of TheBalm found abandoned and neglected in a shelter for abandoned pets and rescued him from possible euthanasia.
In today`s post I present you the Mama collection which consists of bronzer Bahama Mama, blush/eyeshadow Hot Mama and translucent powder Sexy Mama.
First in the collection of Mama's is Bahama Mama bronzer. This is one of the few bronzers that does not drag on the reddish-orange and was my real discovery. The color is just as I get after a month at seaside, a beautiful medium brown, and I believe that it would be ideal for the summer. However, lighter girls still be very careful – I think that it is not for you even after a long, hot summer if you are not prone to darkening because it could happen to appear "dirty" on your face. Also, this bronzer is completely matte and can be used for shading (contouring).
Next one in the collection is Hot Mama – eyeshadow and blush in one; it is of beautiful, hot pink-peach color. The reviews compare it with NARS's Orgasm and Deep Throat. I cannot say whether this is true since I don`t owe Deep Throat, nor Orgasm, but if you are searching for "dupe" for Bobbi Brown Shimmer Brick in Nectar, it might be that Hot Mama is a good choice for you. In fact, both blushes are shimmer and of very similar color, the only thing Nectar more traction in orange, and Hot Mama on pink.
Last in the collection is Sexy Mama which is my favorite powder, and since I discovered it by accident, surfing on Internet, I only use this powder. TheBalm says the following about it: "Powder your face without a trace. This sexy formula with revolutionary, tiny oil absorbing spheres removes dreaded shine leaving you with a soft, silky matte finish. But wait…there's more! Sexy Mama has powers like no other powder…it's virtually invisible – fooling even the most attentive admirer!" Otherwise I do not pay attention to statements like that one and I consider them indispensable part of advertising, but this powder really works like it has been stated on it! So, this cute box hides a great transparent (translucent) powder, completely invisible on one`s face. Not the usual white color, such as translucent powders tend to be, but slightly beige / neutral color to match almost any skin tone. It is extremely light, provides awesome mattifying and even if you don`t blow off the brush when applying, it will not look chalky at all. The only flaw is that it is quickly consumed since there is not much of it in the box (7.08 g).
TheBalm at the best price is available at Strawberry.net (if you pay in dollars), but you can find it also on feelunique, fragrancedirect, Cocktail Cosmetics and nonpareilboutique.
Overall rating:

Check out some swatches and comparison of Hot Mama vs. Bobbi Brown Shimmer Brick in Nectar!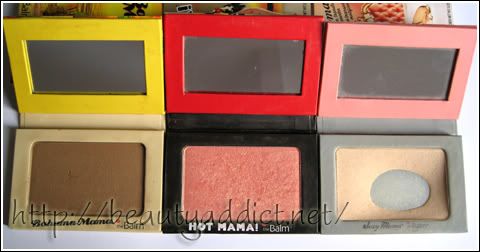 Bahama Mama, Hot Mama, Sexy Mama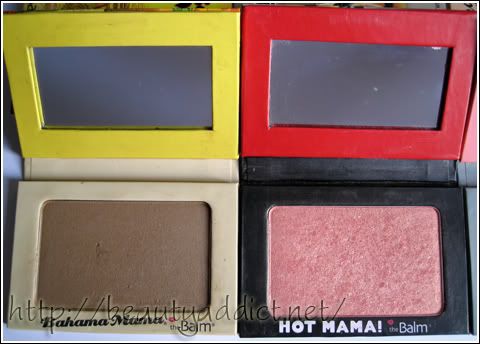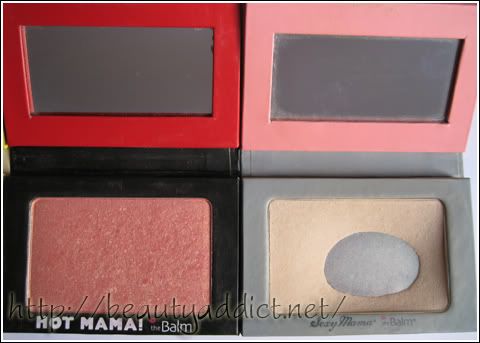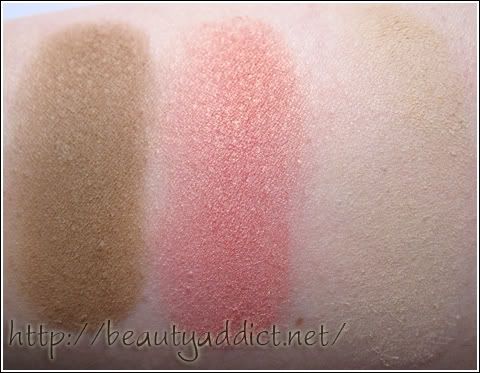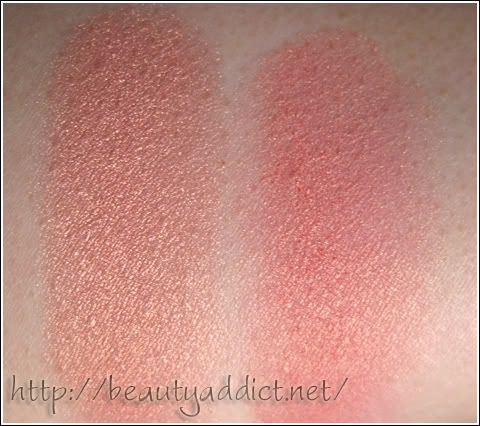 Bobbi Brown Shimmer Brich in Nectar vs. theBalm Hot Mama
Suzy