original Coralista blush

Recently, 3 months ago to be exact, I wrote a post about my Benefit Coralista blush – link – but, it turns out that my Coralista is actually a fake one. How did I discovered that? Well, recently Sephora here in Zagreb started to sell Benefit products (yay!) and when I was looking at them, I realized that my Coralista blush looks completely different from what they had in Sephora so I brought mine blush there and compared it to the ones they were selling and my doubt was justified.
It's not like I was devastated or anything like that, but I was sad because it was a gift and I know that the person I received it from thought she purchased the original one, and also payed for it as it was original, but unfortunately it wasn't. Of course, someone who had a chance to see benefit products would quickly see the difference but since we both haven't the chance to see it before, we didn't noticed it was fake until I had the opportunity to see them in Sephora.
If you're wondering where it was purchased, I'll tell you that too. It was purchased through All Cosmetics Wholesale website and though I know many girls who had great experiences with this online store, it's obviously they sell fake products among the original ones. If you'll be ordering from them – it's really up to you, but my advice is to check the seller very well and ask for *their* pictures from many angles so you could be sure it it original (mostly sellers don't put their photos when selling something online and basically you don't know what you're getting).
Since I don't have the *real* Coralista, I took many photos of the fake one I own and I marked on the photos what's wrong, and also, I'll give you detailed explanations beside every photo. But, to show you the original version of Coralista blush, you have the above photo and I'll also link you to photos of Jojoba because she has some great photos of this blush where you can see the differences really good. Here's her review and photos of Coralista blush – link.
Continue reading to see the photos and to read my explanations!
THE PACKAGING

The packaging – the look of it, the texture, the way it feels under your fingertips when touching the original packaging is completely different compared to the fake one  and this stands for ALL Benefit blushes. The packaging is definitely fine, it seems to be matte but has some kind of sheen, I'm not sure how to describe it. It's really somehow profound and smooth. It doesn't shine like my fake Coralista does, and you can see that at the picture that follows.
As you can see, this box really shines. That' s just not the case with the original box which you can see if you check the photo of Jojoba – link – the original packaging really looks somehow matte, but still has some nice finish.
Benefit Coralista packaging

If you look at my photos, you'll notice how the fake packaging looks somehow red, right? Bat in reality the packaging is more like a combination between the colors yellow and brown and if you look at these flakes – they look more like true leopard flakes. The same thing goes for the sides of the packaging – they're more like ocher or something like that.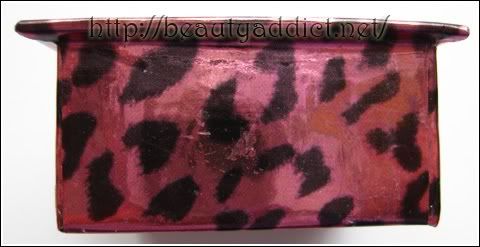 Also, if you look at the original, you'll definitely not see some mistakes like this ones – all angles look perfect, there isn't anything white in the corners and the wrapper around the box is completely fixed which means that nothing will ever move or anything like on the bottom pictures.
THE LID

There are so many differences that I could go on and on about them until tomorrow. :D I marked the most visible with arrows but there are some differences I haven't marked too.
Differences: (to compare my differences check again this photo – link)
position of the flakes – their position is different compared to the priginal packaging, and their color as the color of their background is also different (I already described that above),
scratches on the packaging – Benefit packaging is like MAC packaging – there are no scratches on original packaging, but as you can see – there are many on the fake packaging,
grass – the length is different and the color of it is way off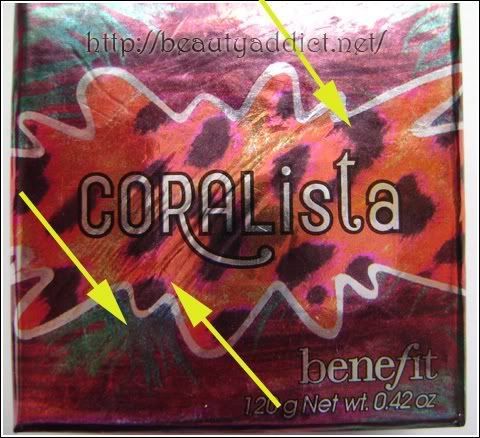 Coralista lettering – the original lettering has some kind of shade over the lettering, while the fake one completely shines,
letter 't' – the original letter 't' is pointed, while the fake one has been cut off,
weight – if you look at my box, you'll see it has 120 g :D Of course, that's wrong and it should say it has 12.0 g, just as I wrote it now – someone obviously forgot to add a dot :)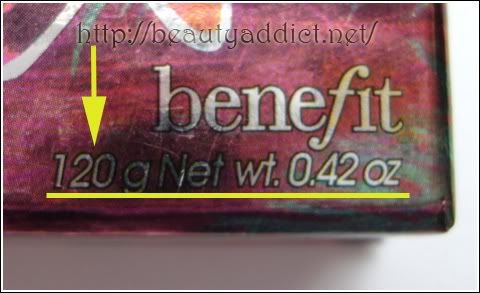 the inner side of the lid – I'm not 100% sure about this, but when I was comparing my fake to the original one I think the original one had a bit longer wrapper inside of the lid, right to the point where I marked this yellow line, but as I sad, I'm not 100% sure about that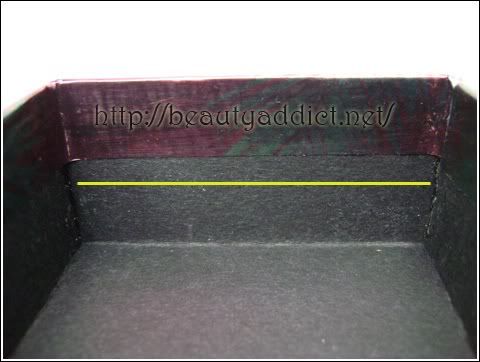 THE BOTTOM SIDE OF THE BLUSH

Here are also many differences. On the bottom side of the blush there is the list of the ingredients and it says where it was produced.
Differences: (for comparison, please take a look at this photo – link – and you'll see the how the font looks like, etc.)
for start, the back label is more darker and the font is more white on the original one,
the fake Coralista has the same font on the back label and none part of the text isn't bold a bit, while the original label has both 'normal' and bold text,
on the left side of the label there should be a 4-digit number but the fake blush doesn't have that number,
Made in – the fake blush has some non-existing spaces between the words, and some text looks a bit long and it shouldn't be; also, the text of benefit's online website should be bold,
letter 't' – here I marked how the letter 't' should look on the front side as well,
I forgot to mark this part, but if you read the 1st sentence on the back label, when you get to the end where it says – avoid eye area – you'll see how it's not separated from the exclamation mark, and how the word 'bikini' isn't spaced from the dot before it,
this label is actually a sticker and it can be peeled off (more details below)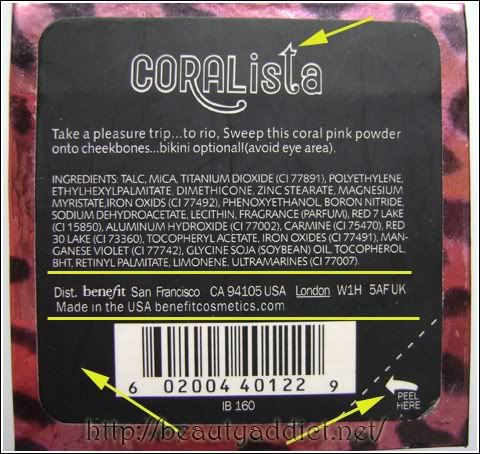 So, the bottom label can be peeled off and at the original label you'll find the ingredients list in different languages – you can see that at this link, BUT, if it's fake, there are 3 versions of the back label: it can't bee peeled off, it can but it has nothing written on the inner side of it, and the 3rd version is that it can also be peeled off but has just some random text and only at one side of the label – the last case is how mine looks like
BLUSH BRUSH

I haven't taken the photo of it, and I think there are slightly differences, but more important is that the fake brush is soft, BUT the real one is even softer! Almost like it's fluffy, but it's not fluffy, if you know what I mean. :D
BLUSH SHADE

Compared to the original blush, the fake blush is more coral than the real one, lol. :D They are completely different. The real shade is more gentle, I think it's more peachy than coral, so yes that's different too. :)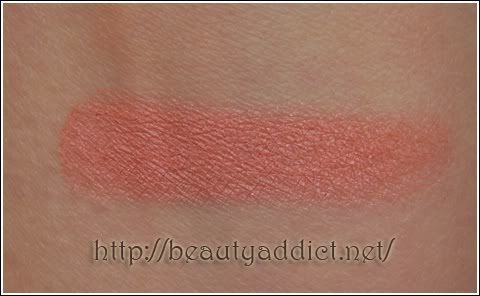 fake shade, applied heavily
THE SMELL
I didn't remember to smell the real Coralista blush (I will do that and then update my post), but I can tell you that my fake Coralista blush smells really fake. :D It just has some plastic smell. It's not strong or anything so it doesn't bothers me.
And that would be it! I know this post is a bit longer, but I had to be more detailed with this stuff and I hope you'll find this post useful. If your Coralista has been purchased online – check if it's a real one! :)
To be honest, I'm satisfied with my fake Coralista and I like it more than the real one because the shade is really more coral and I'll keep using it because I haven't noticed any side effects because of it. :)
If you have any additional questions, you can contact me through my contact form (on top of my blog – Contact) or leave a comment asking me a question!
Vesna