Prošlo je skoro 3 mjeseca od Artdeco Kaviar Gauche promocije i tom sam prilikom od Dereka dobila puder koji je on koristio na licu mjesta, a ja sam ga nastavila koristiti nakon toga pa evo moje recenzije i dojmova o ovom puderu.
Ovo je prvi Artdeco puder koji sam imala priliku isprobati tako da High Definition puder ne mogu usporediti sa njihovim ostalim puderima, ali nakon pozitivnog iskustva s ovim puderom imam namjeru isprobati i nešto od ostale ponude.
Ambalaža je staklena i dolazi na pumpicu koja je zaista odlična jer se bez problema može istisnuti proizvoda onoliko koliko želite. Ja najčešće stisnem pumpicu 4-5 puta ali nikad do kraja već istiskujem svaki put malu količinu jer ne želim previše pudera odjednom. Tekstura pudera je srednje gusta i jako se lijepo razmazuje. Nije potrebno brzo nanošenje jer se normalno upija što meni osobno jako odgovara iako, već sam se poprilično ispraksirala s puderima ali zna mi se desiti tu i tamo da me iznenadi poneki puder kako se brzo upija. Sreća pa kod ovog to nije slučaj. Također, jako je lagan na licu, ja ni ne osjetim da imam puder. Miris pudera je onako, mrvicu intenzivniji ali lijepo miriši.
Nijansa koju ja koristim je 08 soft linen i savršeno je pogođena za mene, čak i sada kada sam dobila mrvicu boje. Zaista se krasno stopi s tenom iako mi na ruci izgleda kao da nije nešto što bi pasalo mojem podtonu (hladni), a ni da bi mi nijansom odgovaralo ali na kraju zaista izgleda savršeno. U prilog tome ide i to da sam dobila hrpu pohvala na račun tena, a to dobivam samo onda kada imam puder na licu (konkretno ovaj puder). :D
Sviđa mi se što stvarno izgleda divno na koži, sjedne taman kako treba i ne ističe moje povremene suhe dijelove lica, a istovremeno izgleda zdravo. Imam ga ovdje na licu pa možete pogledati kako izgleda moja koža s njim. Postojanost je sasvim solidna, čak i po ovom vrućem vremenu iako, sada je svakako potrebno popravljanje svakih par sati tj. matiranje T zone. No, u nekim normalnijim uvjetima ovo je odličan puder. Puder komotno može proći za one sa mješovitom kožom (kao što je moja), iako ne znam kako bi se ponašao na nekome tko se dosta masti.
Jedina mana koju vidim kod njega je to što ima svega 6 nijansi. Nisam gledala ni uspoređivala ostale nijanse, ali baš ću svratiti jedan dan do Mullera da vidim kakve su. Ne sjećam se ni koja je cijena, iako sam bila pogledala tako da i to moram provjeriti pa napisati prilikom editiranja. Količinski puder ima 30 ml kao i velika većina ostalih pudera.
Evo kako izgleda moja nijansa na ruci, slikano na dnevnom svjetlu. Ne djeluje baš kao da bi mi odgovarala, ali kao što sam spomenula – odlično se stopi s mojom kožom i prijelaz se uopće ne primijeti.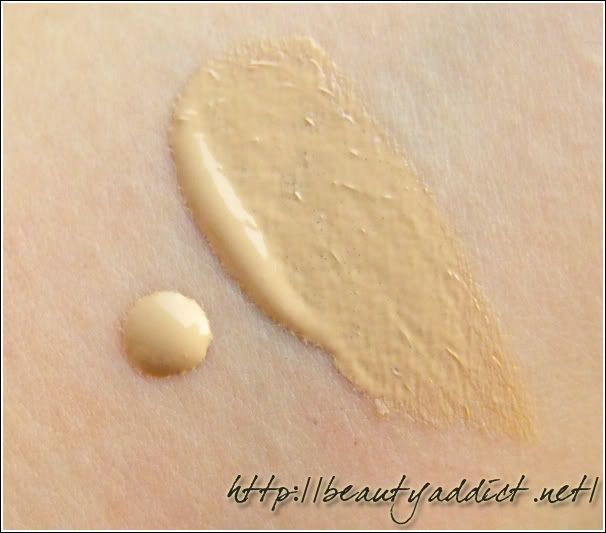 Jeste li vi isprobali Artdeco tekuće pudere?
Vesna