Trenutno aktualna Misslyn kolekcija u Mulleru je kolekcija pod nazivom In The Navy. Promo slike možete vidjeti ovdje iako boje na njima nemaju veze sa nijansama u stvarnosti (nije mi baš jasno kako im to uspijeva, ali ajde). Što se osobnog ukusa tiče, s ovom kolekcijom sam pola-pola jer mi se pola proizvoda jako sviđa, dok druga polovica i nije moj đir tj. nisu u pitanju nijanse koje bih ja nosila. Naravno, ono što mi se sviđa su crveni ruž i crveni lak za nokte, olovke za oči i highlighter.
Ruževi za usne (53,90 kn)

slijeva: 87 Cajun Pepper, 70 Bon Voyage, 63 Evening Sun
Ova kolekcija uključuje tri nijanse ruževa od kojih je moj favorit svakako nijansa 87 Cajun Pepper. Krasna crvenkasta nijansa sa hladnim podtonom – kao stvoreno za mene! Sljedeća po redu bi svakako bila nijansa 63 Evening Sun, krasna boja lososa koja je itekako in ove sezone. :) Sviđa mi se pigmentiranost ruževa iako, naravno, najpigmentiraniji je moj favorit! ;)

slijeva: 63 Evening Sun, 70 Bon Voyage, 87 Cajun Pepper
Lakovi za nokte (37,90 kn)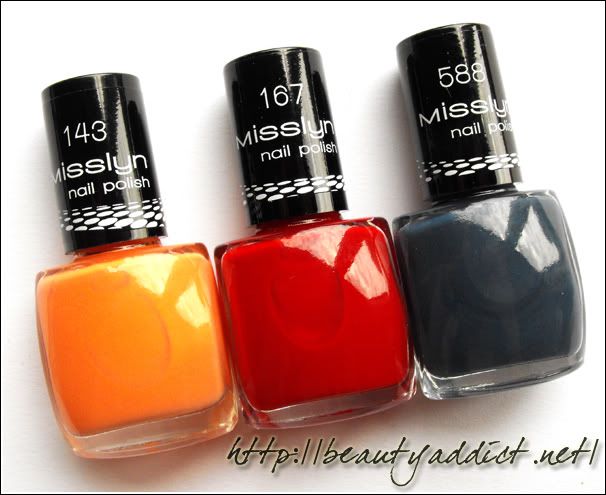 143 Sunrise, 167 Waiting for you, 588 Aye Aye Captain
Na gornjoj slici je nijansa 143 ispala nerealno, pa radije bacite oko na swatch jer tu izgleda kako spada. :) Moram priznati kako mi se sve nijanse sviđaju, iako nijansa 143 nije nešto što bih sama nosila na noktima, ali zato druge dvije nijanse itekako bih i hoću. :)
Koja nijansa se vama najviše sviđa? :)

143 Sunrise, 167 Waiting for you, 588 Aye Aye Captain
Olovke (22,90 kn)

slijeva: 15 Peach Liqueur, 107 Wooden Barred, 188 Admiral
Olovka za usne – Peach Liqueur je nešto mrvicu slabije pigmentirana, ali zato to nadoknađuju olovke za oči koje su nevjerojatno pigmentirane i čak mi se tekstura čini nešto drugačija nego njihove olovke koje sam dosad isprobala. Nekako je masnija možda? U svakom slučaju, odlična pigmentiranost i nadam se kako će se iskazati. :)
(jedna olovka za usne nedostaje)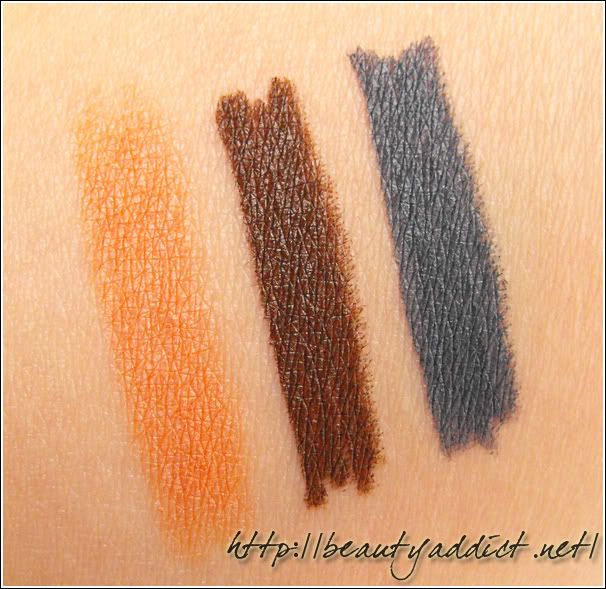 slijeva: 15 Peach Liqueur, 107 Wooden Barred, 188 Admiral
Sjenila (duo – 44,90 kn; trio – 52,90 kn)
Sjenila su kod Misslyna i dalje najslabija karika iako je tekstura kod ovih sjenila dosta finija nego njihova kod prijašnjih sjenila. Šteta što su nijanse dosta lagane, ali drago mi je da se tekstura poboljšala. Nadam se da će sjenila u nadolazećim kolekcijama biti još bolja. :)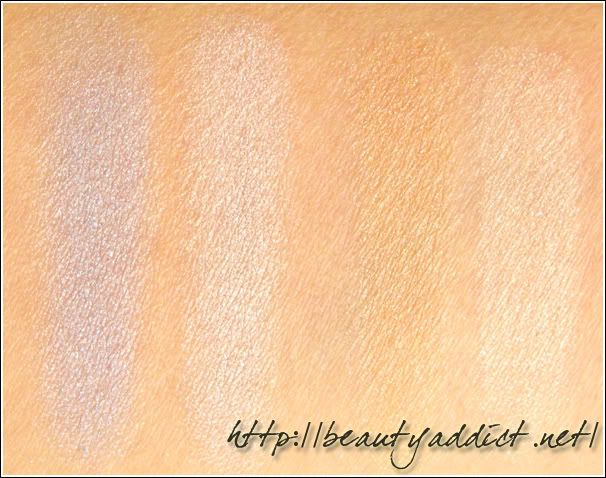 duo sjenila: 169, 299

42
Highlighter
Ovo mi je najljepši proizvod u kolekciji i s obzirom da mi je zaista prekrasan na kraju ga nisam ni swatchala jer mi je žao "uništiti" uzorak. Jednostavno, ne mogu si pomoći i morat ćete mi oprostiti zbog toga :D Nisam sigurna koliko je ovakav highlighter iskoristiv s obzirom da su nijanse tj. prugice dosta uske pa nisam baš sigurna kako bi teklo nanošenje sjenila bilo aplikatorom ili kistom, ali ako ništa drugo, lijepo je vidjeti ovakav proizvod. :)
Kako se vas dojmila ova kolekcija? Jeste li nešto kupili iz nje?
Vesna
*PR uzorci