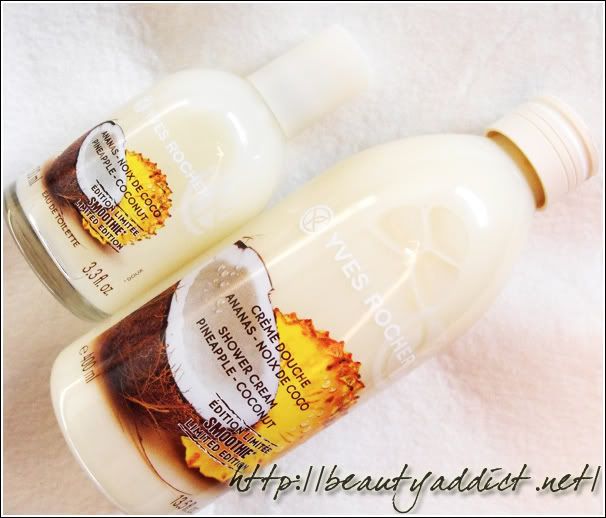 Nedavno je u Yves Rocher dućane stigla nova limitirana kolekcija, kombinacija ananasa i kokosa. Kako volim oboje, odmah sam to isprobala i na kraju sam uzela dva (i jedina) proizvoda iz te kolekcije: krema za tuširanje i edt.
U svojoj stalnoj ponudi Yves Rocher ima edt od kokosa, ali iz nekog razloga mi taj miris i nije nešto. Ovaj u kombinaciji s ananasom mi je daleko bolji. Ono što mi je kod njega savršeno je to što je skroz ljetni miris i čim ga našpricam imam osjećaj kao da se nalazim na plaži i pijem nekakav koktel (uskoro, nadam se…) :D
Krema za tuširanje miriši nešto manje intenzivnije od toaletne vode, ali i dalje predivno. Krasno se pjeni i koža je nakon tuširanja prekrasno glatka i mirišljava. Već ste sigurno primijetili kako volim Yves Rocher kreme/gelove za tuširanje, a nisam ni sumnjala da će mi ovo biti novi favorit.
Jeste li isprobali ovu kolekciju? Volite li uopće kokos, ananas, njihovu kombinaciju?
Cijena kreme za tuširanje je 35 kuna (400 ml), a cijena toaletne vode je 65 kuna (100 ml).
Vesna