Two weeks ago I received few Illamasqua products for creating a holiday look and well, finally today I found time to create it. Luckily, the weather is also nice so I have good photos too! :)
This a pretty simple look but thanks to two product it does stand out:
- False Eye Lashes #021
- Lipstick in Box
While I was putting my makeup on I kept asking myself one thing again and again: why I haven't used false eye lashes ever before?! I alsways thought it's difficult to put them well but it turns out it's pretty easy! It took me about one minute to put them both on and I really don't see a reason why all YT tutorials about applying false eye lashes last for 10 or more minutes! Okay, maybe these eye lashes are high quality and well made because they do fit perfectly and the glue that comes with them is also amazing – it gets tacky after about 5-10 second and the second you apply and press your false lashes they just stick there. :) The only thing I did before I applyied them is to wrap them around a pencil just to make them more adaptable. I also tried them on without using any glue just to see where to put them exactly.
These aren't heavy at all but it feels a bit unusual at first. Also, these aren't for everyday use though I'd like to use them every day! 
About the lipstick I can say only one thing and excuse my language but I have to: it's pure sex. I don't think I need to say anything more, you say see for yourself on by taking a look at my photos. :D
I used also few other products and here they are listed:
Pure Pigment in Android
Eye Brow Cakein Gaze
Eye Liner Cake in Mislead
Cream Blush in Ravish
dermacolor (Kryolan concealer palette in light)
Meow Cosmetics Pampered Puss Mineral Foundation in 2 Frisky Chausie
And here are my photos.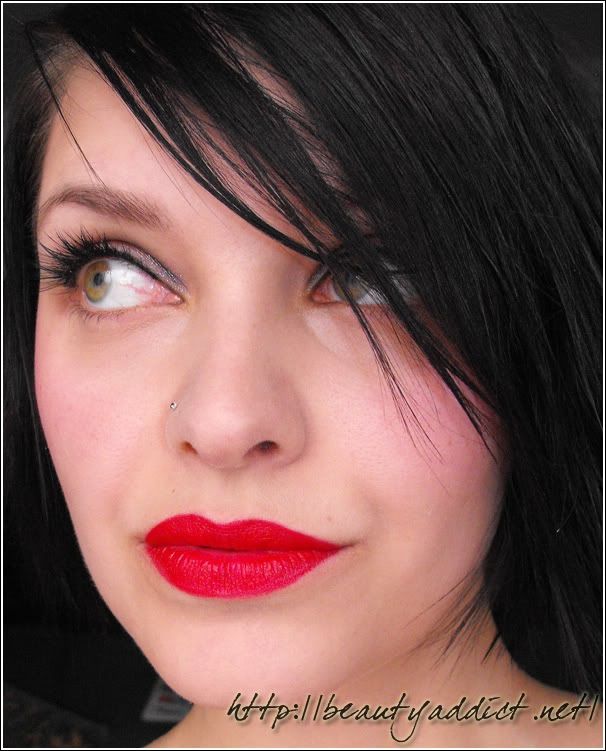 I was also planing to create two more looks with the same products but used differently. What do you think of that?

Vesna
*all Illamasqua products in this post are PR samples