If you wondered what to Inglot eye shadows look like, you can check out this post to see swatches of ALL eye shadows available in their stores!
All photos are clickable and you can see every shade name above the swatch. Their shades don't have names, they have numbers and letters:
DS – double sparkle,

M – matte,

P – pearl,

A – advanced

AS – advanced sparkle.
All eye shadows are applied on bare skin, no base. All photos are taken in natural light.

Note: some matte eye shadows on my swatches look like they have slight shimmer and it's because I couldn't wipe all shimmer of my skin, but trust me, if there is a letter 'M' next to the number – it's completely matte eyeshadow. :)
Check out the rest of the swatches after the cut!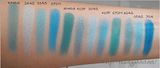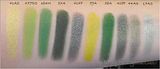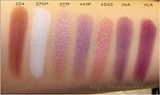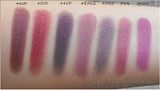 Have you picked your favorite shades? Which ones do you like the most?
I have picked my favorites, I got myself a 10 round eyeshadow palette and you'll see it tomorrow!
Vesna