On Friday I visited Kryolan in Zagreb and I got two lipsticks along with their fixing spray (review coming up soon!). They really have a huge lipstick range and I don't really know why I haven't tried them before. Okay, they do offer a huge range when it comes to every product but still, don't be shocked once you take a look at what they really offer! :D
Since I always seem to buy similar shades, I ended up with two shades I already have (that's actually something my boyfriend would say but I'd say they're only similar :D ). I picked up L11 (purple) and LC122 (fuchsia).
Both shades have amazingly creamy (not too creamy) formula and they are SO pigmented! Can't wait to get few other shades though I promies to myself and few other people I won't be buying anything in the near future, but I really don't know how will I resist them (or resis buying makeup). Probably the only way is to stay out of Kryolan :D Though I do plan to swatch their lipsticks for blog but that will be after the summer so stay tuned! ;)
Here's another photo, check out how gorgeous they are!
I believe I don't really have to say a lot about them, it's enough to show you how they look when swatches. They completely threw me off! And they'll do that to you too! :D Also, I can say this was love at first swatch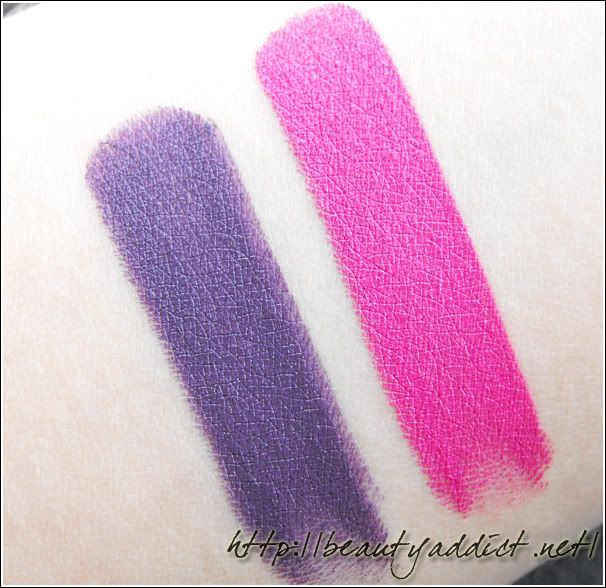 Of course, my first though when I swatched L11 was how similar it looks to Illamasqua Kontrol and well, I wasn't really wrong. The only difference id that L11 is a bit more purple and the formula is less creamy than Kontrol. Both shades will be perfect for those who love purple lipsticks. ;)
I also compared it to my other purple shades but Kontrol is the only one similar to it. I don't even wanna talk about Fetish right now, I'll write my review in a separate post but since it's "purple" it's also here.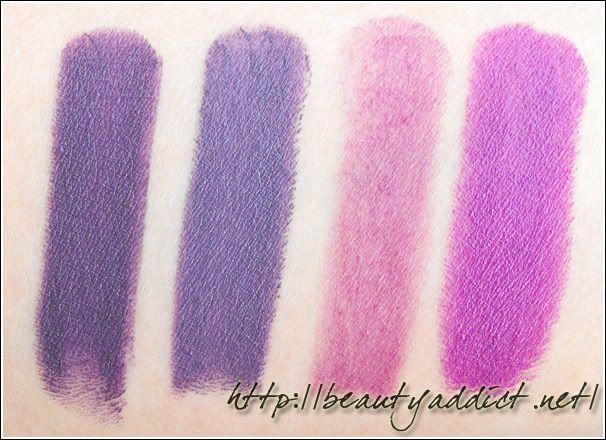 from left: Kryolan L11, Illamasqua Kontrol, Illamasqua Fetish, MAC Heroine
When I tried to wipe off these swatches the one who lasted the longest was L11, then MAC Heroine and Kontrol was on 3rd place.
Price
To make long story short – these are on of the most pigmented and affordable lipsticks in one! Their retail price in Croatia is only $12! That's really nothing if compared to Illamasqua lipsticks which retail for almost $30!
How do you like these two shades? Do you wanna see all Kryolan lipstick swatches? 
Vesna