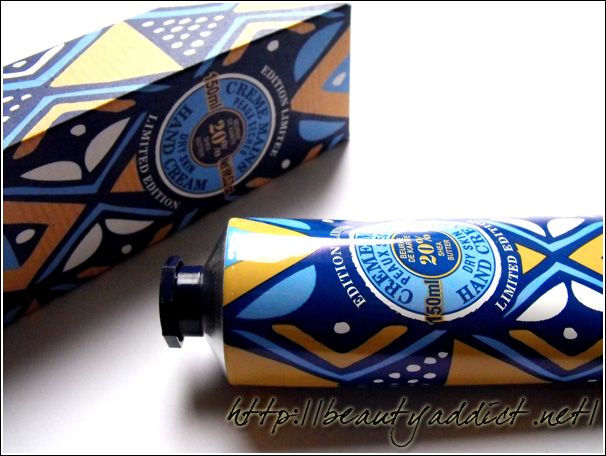 Remember my last L'Occitane shopping? That's when I got this hand creme too, it came with that soap I purchased. I don't know if this hand creme is usually available in this mini size of 15 ml (0.52 oz.) but I know it's available in these sizes: 30 ml (1 oz.) and 150 ml (5.2 oz.) which is the full size.
Here's what L'Occitane says about this product:
A super-smoothing–and best-selling–synergy of 20% Shea Butter, honey and sweet almond extract, blended with the light and alluring aromas of jasmine and ylang-ylang essences. Texturally pleasing balm glides on and absorbs to help heal and protect dry or dehydrated skin. Anti-oxidizing vitamin E helps nourish. Invites even the most hard-working hands to a fresh beginning.
Anyway, I really like this product. My hands are currently really dry so this was an excellent cure for them at the time. The formula is a bit thicker, but it's non-greasy and fast absorbing which is great. Skin feels nourished, that's for sure. The smell is neutral, not too intense. Reminds me of those baby cremes. :) Anyway, I think I'll get the full size when I'm done with this packaging. The only thing is – I don't know the price of it here, but I do know it costs $26.00 (full size) and $10.00 (travel size) in the U.S.
If your hands are also dry, try testing this product, you might like it. :)
Rating:

Vesna