I'm alwaqys on the fence with this mascara. There are days when I'm just thrilled with it, and then there are days when I just wanna throw it into the garbage!
I really don't know how can it be so possible that it can vary that much. This is what it claims: Full Lashes, Natural Look Mascara and when I think of it, yes, that's what it does – colors my lashes well, lifts them up a bit and give them some volume so they end up looking natural. But then again, there are some days when my lashes look completely dull with this mascara on. I don't know how it manages to do so, but for some while we have this love-hate relationship.
I purchased this mascara quite a while ago, but I started using it just recently and when I think of it, I got it by mistake since I wanted to get Maybelline Colossal mascara and I ended up with this one but noticed that much later.
It has a rubber brush, and it's a huge one. At least for me since I never had a such brush. It took me a few days to get used to work with it and though I was used to those regular mascara brushes and though I was skeptic to this one, in the end it turned out to be a good brush.
This mascara is quite pricey. It's approx $20 here in Croatia and I find it to be an expensive one. Okay, I got it on sale so it was fine but I would never buy it on regular retail price. It has a decent amount though – 13,1 ml. When comparing this mascara to my favorite L'Oreal Volumissime x4 I have to say that I prefer L'Oreal way much so I don't think I'll be getting this mascara again.  I'll either return to L'Oreal or I'll get Cover Girl mascara.
Overall rating:
And here's how it looks on my lashes:

Check out before/after photos!
My brows look terrible when photographed close-up
but trust me – those are the same brows as on the photo above!
before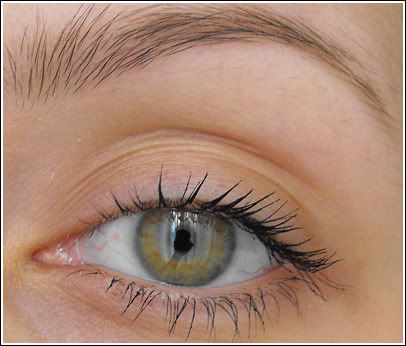 after
Have you tried this mascara? Were you impressed and do you have any other recommendation?

Vesna