The latest collection from Misslyn is the one called In The Navy. You can see some promo photos here but please refer to my swatches for real shades since their promo photos are all wrong. I really don't understand how is that evenb possible?! Anyway, I like half products from this collection and those are the ones I would personaly wear, while the other half isn't really my cup of tea. Of course, the products I like are red lipstick and nail polish, liners and highlighter!
Lipstick

from left: 87 Cajun Pepper, 70 Bon Voyage, 63 Evening Sun
There are three lipstick shades available in this collection and my favorite one is definitely shade called 87 Cajun Pepper. Lovely reddish shade with blue undertone – just as made for me! I also like 63 Evening Sun, lovely salmon shade which is obvoiusly IN this season.

from left: 63 Evening Sun, 70 Bon Voyage, 87 Cajun Pepper
Nail Polish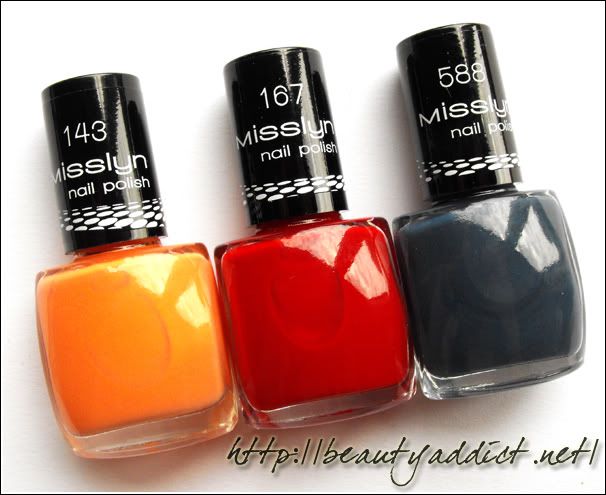 143 Sunrise, 167 Waiting for you, 588 Aye Aye Captain
On my photo above the shade 143 turned out non realistic so please refer to my swatch for true shade. I have to say that I like these colors though 143 isn't something I would wear, but the other two shades will be on my nails this summer! :)
Which shade is your favorite one? :)

143 Sunrise, 167 Waiting for you, 588 Aye Aye Captain
Lip & Eye Liners

from left: 15 Peach Liqueur, 107 Wooden Barred, 188 Admiral
Lip liner in Peach Liqueur isn't as pigmented as their eye liners are – these are amazingly pigmented which you can see below. Their formula is a bit different than the one from their previous eye liners – it's a bit greasily? Anyway, I do like them and I hope they'll look great with my looks!
(one lip liner is missing)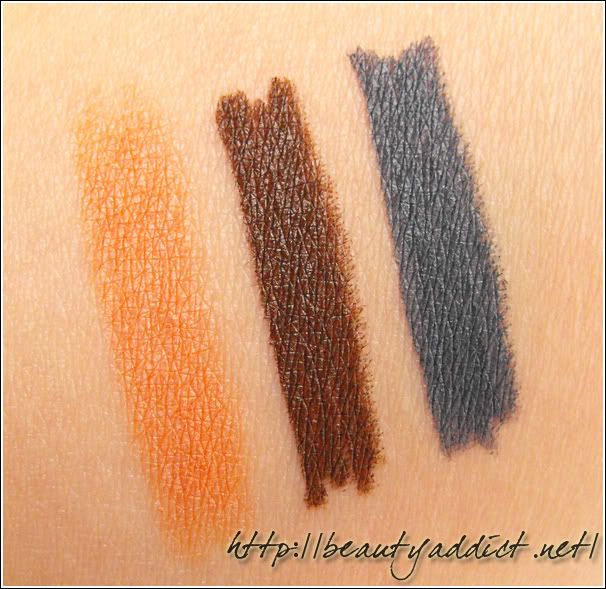 from left: 15 Peach Liqueur, 107 Wooden Barred, 188 Admiral
Eye Shadows
As I mentioned it in my previous Misslyn collections swatches, their eyes shadows are the least pigmented . But, there is some improvement with these eye shadows – the formula is a bit nicer, I admit that so I hope that their upcoming collections will have even better eye shadows. :)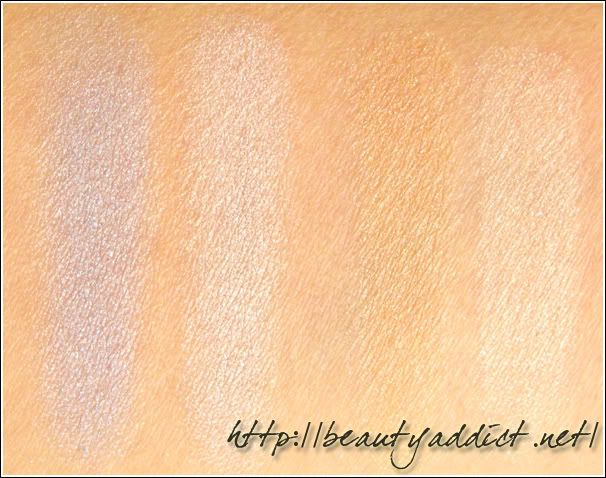 duo eye shadows: 169, 299

42
Highlighter
This is the prettiest piece from this collection and of course, I didn't dare to swatch it! I just couldn't force myself to swatch it, lol. :D I'm not sure how usable such highlighter is since these stripes are quite narrow so I'm not sure how would the application with either brush or sponge applicator work. But at least, it's pretty to look at. :)
How do you like this collection? Did you get anything from it?

Vesna
*PR samples