After showing you my MAC lipstick collection/swatches here is another post but this time about Illamasqua lipsticks. I didn't realize I have 6 of them, though I'm sure few more shades will find their way into my collection. But, probably not so soon since I'm trying to be rational and I want to stop with buying lipsticks so often. Well, we'll see about that because every time I see some new gorgeous shades I look like this. :D But, let's get back to my lipsticks.
Here's how they look swatched on my arm, natural daylight next to my window.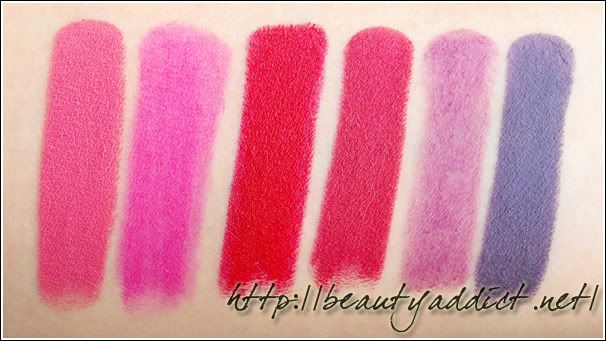 from left: Scandal, Eurydice, Box, Salacious, Fetish, Kontrol
The only unusual shade when it comes to lipsticks is shade Scandal but it turns out it really suits me and it goes great with my black hair. It's special indeed. I would've never picked it up but thanks to MUA in Illamasqua store I ended up with this shade. :)
Their lipsticks are creamy though they can be a bit drying so I think they wouldn't be good for thise with drier lips. The only bad experience with their lipsticks is shade Fetish. It just isn't working for me and it really makes me sad since I wanted it to work. :/
I'd also like to mention shade Box which is true gorgeous red! It looks so amazing, non-drying, stays on forever, doesn't bleed… Love it!
Do you have any Illamasqua lipstick? Which do you like the most among my shades? :)
Vesna