esterday I showed you a sneak peek with Misslyn nail polish strips and as I promised, I'm here to show you how they look on my nails. I choose Burlesque pattern since that's my favorite pattern. I simply fell in love with it!
Even my boyfriend noticed that I don't wear ordinary nail polish. That has to mean something. :D
Application was much easier than I thought it would be (even for me and trust me, I really ain't that girl which does her mani perfectly).
clean your nails properly before doing anything else

1st step – choose the right size for your nail 
2nd step – remove your nail strip from foil, don't touch it with your fingers
3rd step – paste your nail strip onto nail, try aaplying it carefully so you don't get any air bubbles (I had no issues with those but just sayin')
4th step – fold any excess and remove it by using gentle nail file
5th step – apply top coat as extra protection (hopefully this will last longer with top coat)
Removing shouldn't be any issues, simply use nail polish remover. I don't know anything about lasting power yet, I do hope I'll be able to wear it at least two days.
There is one flaw with this – price. Yesterday I mentioned how they cost approx. $4 each, but it turns out that their price is quite different – $10.50! That's actually a lot for a product you can use only once. Though it's possible to decorate only one or two nails so that saves some money. But still.
Anyway, this looks really nice on nails. :)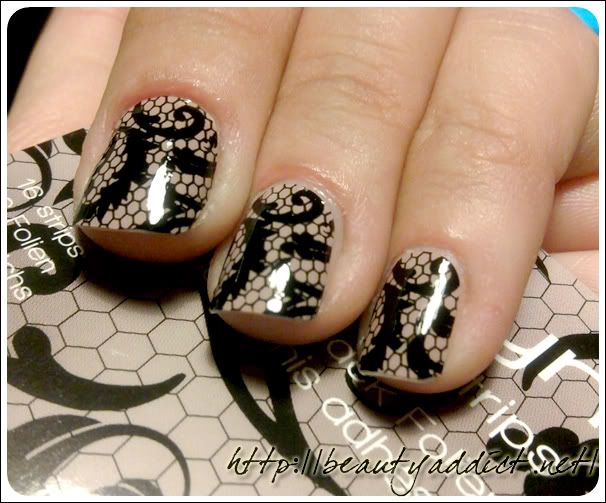 (sorry for my poor photo but this was taken at 9pm, I'll take few photos in the morning)
How do you like Misslyn nail polish strips? Would you use something like this?

Vesna
*PR sample