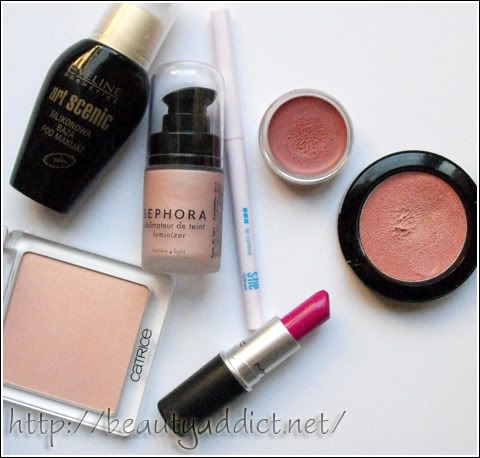 I've meant to post this much sooner but just didn't have the time to photograph these products. I haven't been testing too many products in June cause this weather is just killin' me and I'm pretty much on a routine when it comes to makeup and skincare, so for June I have only several products for you. :) Of course, it doesn't mean I'm not spending money cause – I am. :D
Eveline Art Scenic Silicone Makeup Base ($10) - review – I'm still using it and I'm still loving it! If you get the opportunity to try it – please do and let me know what you think!
Sephora luminizer – this has been discontinued unfortunately and of course I love it! I use it almost every day – cheeks mainly cause I like how it looks on them. I love that subtle shine it gives them.
Inglot AMC Cream Blush #82 ($15) – amazing, AMAZING daily blush! Especially if you like subtle looking blushes! Of course, it can be applied heavily, but I don't like it that way. You can see my heavy/light swatch right here.
NYX Cream Blush in Boho Chic ($6) – review – also a gorgeous daily blush with subtle shimmer in it. I haven't noticed it till some time ago and I was surprised how come I missed it, but I love it! :)
Catrice Enter Wonderland Highlighting Powder, LE ($7) – too bad this is LE product, I think Catrice should consider launching something like this into their permanent line cause it's perfect for summer! Also, it looks great on eye lids!
S-he Stylezone Lip Control Pencil (#5) – review – what can I say besides – I'm not using any lipstick without applying this lip pencil first!
MAC Girl About Town ($14.50) – I think this is my colour-to-go this summer! Gorgeous vivid shade which looks great on my lips! Beside the gorgeous shade, I love how pigmented it is and long-lasting on me! The price of it is actually decent cause it's a high quality lipstick! Check out how it looks on my lips (it looks a bit different cause of the different lightning).
Here are my swatches. Photo above looks not that good cause of the bad lightning I had at the time I took my photos and my swatches are okay beside Boho Chic maybe cause it looks somehow too light on my skin, but I did tan a bit so it could be because of that.:)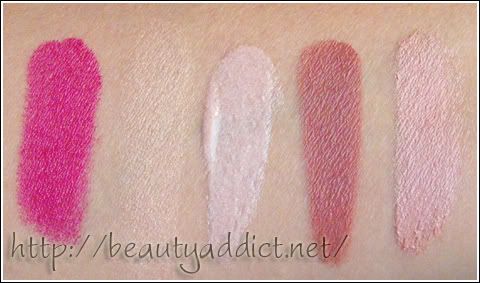 slijeva: MAC Girl About Town, Catrice Enter Wonderland highlighter, Sephora Luminizer, Inglot #82, NYX Boho Chic
Vesna