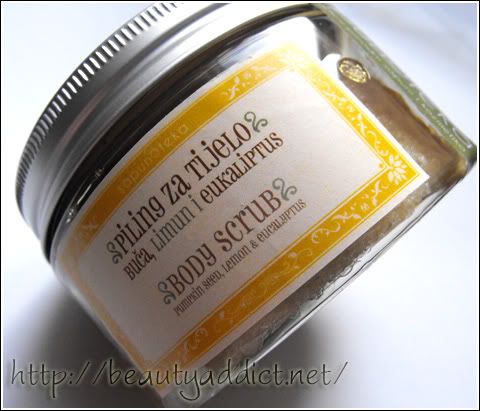 It's been almost 2 months since I received this scrub and I've been using it a lot so it's time to write my thoughts about it. :) This is the 3rd Sapounoteka body scrub I've tried, though this is the new version of their previous lemon and eucalyptus body scrub – the difference is the old one contained almond oil instead of Pumpkin. You can read my review here.
If I compare the old and the new version, I have to say I prefer the new one though they are the same when it comes to efficiency, how they treat the skin and so on, but there is a slight difference in the smell – the new version lasts longer on my skin and it is a bit less intense but it's there and I like that a lot. You have to know about the pumpkin seed oil that it leaves green trace on the skin when it's used but it does wash off. The only thing is that the bathtub must be washed after using this scrub since there will be trace of that green color on it as well. It won't be intense, but my tub is white so it's visible a bit. I like the packaging of it – it's better than the old one, it looks nicer too. Also, this body scrub has an interesting feature when left outside in the cold – it gets completely green (the oil in it does). It looks so cool, to bad it's more brownish indoor. :D
Also, beside the packaging the price has been changed to. Previous price was $3 for 300 grams, and the new one is $8 for 400 grams. I know it might seem a huge change, but it's worth every cent and it isn't actually that expensive when I compare it to some similar brands.
Unfortunately, their products are available in Croatia only at the moment.
Overall rating:

Ingredients: Sea Salt, Cucurbita Pepo (Pumpkin) Seed Oil, Cocos Nucifera (Coconut) Oil, Glycerine, Citrus Medica Limonum (Lemon) Peel Oil, Eucalyptus Globulus (Eucalyptus) Oil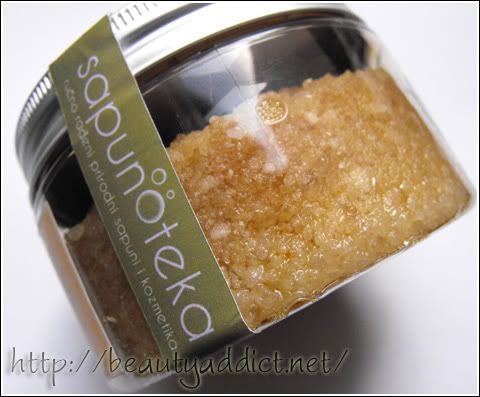 Vesna
Full disclosure: The product in this entry was provided by the manufacturer/PR for consideration.