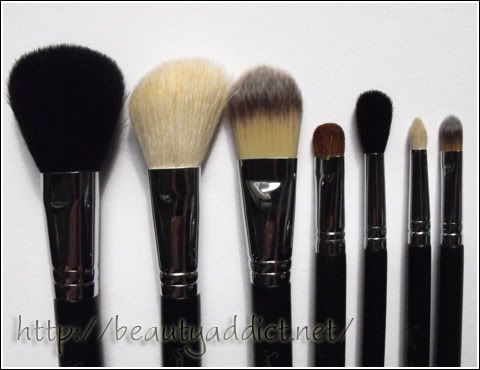 from left: F30, F40, F60, E55, E40, E30, F70
Note: sorry for poor photos but the weather wasn't on my side that day I took them :(
Some time ago, month or so, I wrote about Sigma affiliate program and how I decided to join that program and what that meant for me and my blog so please read that post if you haven't yet. As a result of that I received a brush set – Travel Kit Naughty in Black – and after testing those brushes for almost 2 months here's my review!
Keep in mind: if you purchase this brush set, as a gift you'll receive F50 travel brush (stippling brush). :) I won't be reviewing F50 in this post, I'll write a separate review for that brush. :)
Let me start with its brush roll – I love it! It's made out of some soft  (fake) skin material, well made (yes, I notice such things since that's what I do as well – I sew :) ) and beside everything it's portable since it fits everywhere. :) The think I like very much about it is how you close it – it actually has a magnet inside of it and you practically just fold it and it's already closed! Simple as that!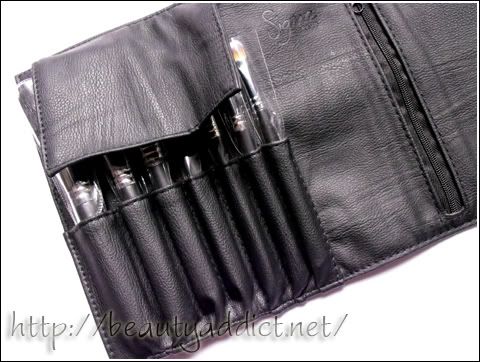 All brushes come with extra protection – larger brushes have brush guard while the smaller ones come in nylon. I threw that nylon away, but I kept those brush guards since they're useful.
from left: F30, F40, F60, E55, E40, E30, F70
* E30 – Pencil Brush *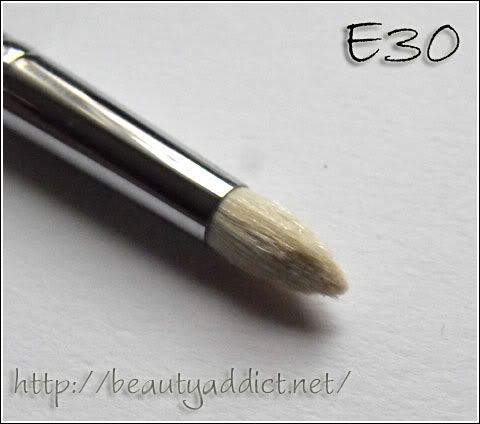 Let me start this brush review with my favorite brush – E30 pencil brush. To be honest, I don't know how I managed to live without this brush so far! I know it might sound ridiculous but really, this brush is just AMAZING and I love it!  The thing is, this brush is perfect for so many things – precise smudging, applying eyeshadow on the crease/outer eye area, etc.
This brush is soft but has a firm shape, it washes easily and dries quickly. Length: 13cm/5,11″. Hair length:  1,1cm/0,43″. Natural hair.
* E55 – Eye Shading Brush *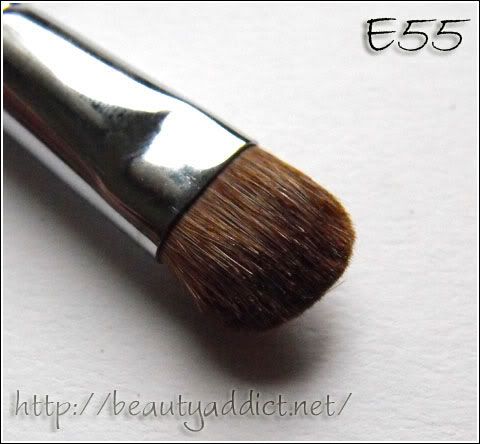 This brush is quite interesting – it has shorter and dense hair, but still nicely soft. It picks up everything very good, but I love to use it, beside of regular eye shadows, for loose eye shadows and pigments. I had minimum of fall outs with this brush.
This brush has a bit thicker handle than other eye brushes. The total length of this brush is 13,3cm/5,23″ and the length of brushes is 1,1cm/0,43″. When it comes to cleaning this brush I found it being easy and though it's dense it dries quite quickly. No shedding.
* E40 – Blending Brush *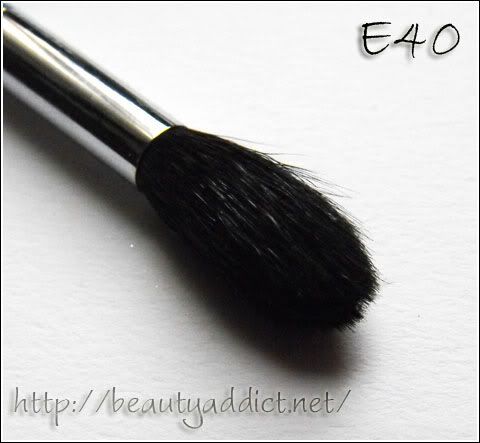 I don't have a pro blending brush so this is my first blending brush and I can't compare it to any other brush. But, regardless of that, I'm very satisfied with how it performed and I had no problems during blending whether I used light or dark eye shadows. I also noticed I prefer to pick a small amount of eye shadow and then pick some more if I need too.
It's soft, didn't shed at all, dries quickly when washed. Brush length: 14,1cm/5,51″. Hair length: 2cm/0,78″.
* F40 – Large Angled Contour Brush *
I was really looking forward to trying this brush since this is my first contour brush though I did use other brushes for that purpose but I always felt something was missing. This brush actually looks like a blush brush but, for me, its a bit too narrow and too firm. But, you can use it for that too if you like it that way. :)
Anyway, at first I thought it was a bit too large for contouring but after using it for some time I found it to be perfect. It's actually quite precise and as I already mentioned, this is a bit firmer brush which means it perfectly picks any color so you have to be careful not too look like you've applied too much of bronzer onto your face (like I looked the first few times, lol :D ). Along with E30 Pencil brush, this is my favorite brush from this set.
When it comes to keeping this brush clean – it might seem that wouldn't be easy since it has white hair but actually everything comes off. You have to rub a bit longer than with other brushes. Brush length: 15,5cm/6,10″; hair length: 3,5cm/1,38″.
* F30 – Large Powder Brush *
This is the only brush in this set which has some shedding problem. And that's weird since it didn't shed while I washed it, but it started to shed later. It's a real shame. When compared to my ecotools brush, this brush is smaller and the hair is more dense. I like to use it for some final touch-ups. I'm satisfied with how this brush performs but it is a shame it sheds.
I had no problem during washing it and it dries fairly quickly. Brush length:  16cm/6,30″; hair length: 4cm/1,57″.
* F60 – Foundation Brush *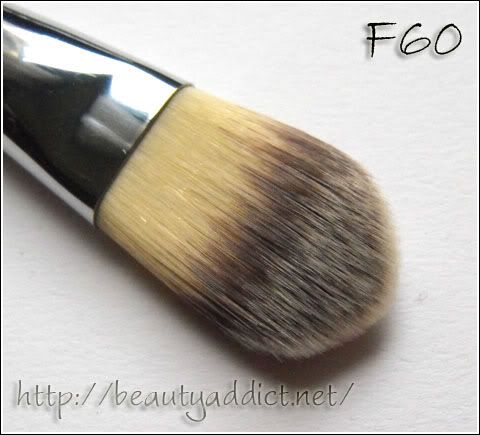 Though I find this brush to be good for applying liquid foundations, unfortunately, it has a flaw – it pricks. :( It's nothing unbearable but it does bug me when using it and it makes me feel uncomfortable. I don't know if this brush is usually like this, but this might be a bad batch (and I hope it's the problem). Everything else is really good about this brush. Also, this brush along with concealer brush has synthetic hair while other brushes have natural hair.
This brush dries quickly, washes easily and doesn't shed. Brush length: 15,2cm/5,98″; hair length: 1,18″.
* F70 – Concealer Brush *
This brush looks like a smaller foundation brush but this brush doesn't prick – it's soft and gentle. I found it to be very useful for precise concealer application – for some smaller skin imperfections and that's what I'm using it for. If I need to cover some larger area I still use my fingers. As foundation brush, this one also has synthetic hair.
Brush length: 13,4cm/5,27″; hair length: 1,2cm/0,47″.
Price
This brush set retails for $49 / 37€.
Overall impressions
After using this brush set daily for almost 2 months I can say that I'm really satisfied with the quality of these brushes. These are the first Sigma brushes I've tried but I know those aren't the last one :D This set is really affordable and the best thing is – you do get good quality brushes for $49! If you decide to get it – I'm sure you won't regret it! Also, I like that you get all brushes you need in one brush roll. :)
Have you tried Sigma brushes? If you have, what's your opinion? Any recommendations? :)
Vesna