Instead of showing you products for July I decided to share with you my favorite summer products, which I used during my holiday time! I noticed that I forgot to take photos of 2 more products but I'll mention them at the end of my post. :)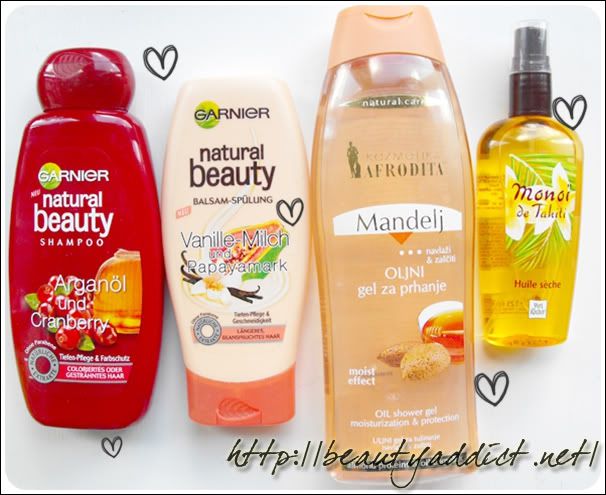 Garnier natural beauty shampoo and conditioner – I've been mentioning these products gain and again so I'm showing you them this time as well. :) I use many hair products at the same time, but these are my all time favorites. Try them, you won't regret! ;)
Afrodita almond oil shower gel - one of those products which I've been using for years now. It's so gentle, non-drying and smells deliciously!
Yves Rocher Monoi de Tahiti dry oil – this was love at first smell I supose :D I don't remember when was the last time when a products got all my love that quickly! I'll tell you more about it in my upcoming review! ;)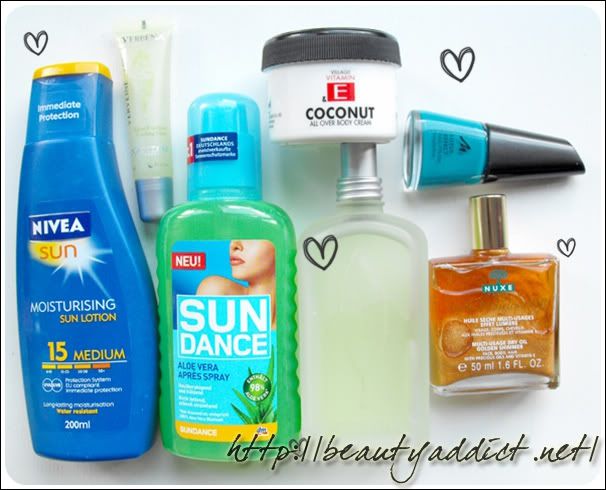 Nivea Sun moistruising sun lotion spf 15 – protection is must have! Okay, spf 15 isn't that high protection but I didn't go to the beach between 11 and 17 hours. My skin really tolerates Sun, isn't sensitive so spof 15 is enought protection for me since I avoid Sun as much as I can. I love this lotion – it's moistruising, fast absorbing, light, leaves no white traces on skin and – it protects. :)
Sundance Aloe Vera After Sun Spray – good after sun product. Not really sure if it actually does anything but I like how cold it feels when applied. It really feels good :D
L'Occitane Verveine Sorbet Cooling Gloss* – I love this product line! This gloss is pretty much the same as others I've used but the differenced is – it's cooling. Love that feeling when it's way too hot outside!
Village Vitamin E & Coconut body cream – mentioned it in my previous post – this is my THE body cream with coconut! Love how it smells on skin and how my skin feels after I apply it. Fast absorbing, non-greasy, long-lasting scent <3  I think it will last forever too since I need the tinies amount to apply it.
L'Occitane Verveine Sorbet edt* – the perfect summer scent. I love citrus scents so this is really my to go edt. :) I love how fresh it smells and how it wakes all my senses. <3
Nuxe multi-purpose dry oil with golden shimmer - I've been using this products for years now. I just love applying it everywhere – my face, body, hair. You name it!
Manhattan Lotus Effect, shade 78S – perfect summery shade! I had some issues with application – it's a bit thick and had some bubbles too, but I pretended that wasn't the case since I loved the color! It looks even better under water :D
Two products I forgot to include in my photos:
- Avene Thermal Water – I've been using this one too for years and can't imagine going anywhere without it. I use it all over my face, body, etc. To cool off, to calm down any rashes or redness and so on. :)
- Synopen unguent – this is actually the winner! It's perfect in combat with mosquito bites – everything is gone by the morning but before that it's effective as soon as you apply it – rash is gone and swelling disappeares.
And your summer favorites are? :)
Vesna
*PR sample