Some time ago (20 days or so) I showed you this gorgeous Too Faced Glamour Revolution Palette and I promised to show you my swatches too – so, here they are! Detailed photos of this palette check in my previous post  here, and now I'll post just my swatches. :)
Before you check my swatches, I have to say that Too Faced eyeshadows are amazingly pigmented, long-lasting and just unbelievably excellent! So, if you get the opportunity to test these – please do because you won't regret it!
Just few word about each eyeshadow:
Milk Chocolate – matte, neutral brown shade - this is something I would never buy on my own, but having it thanks to this palette, I must admit that shades like this one are just must haves! It just goes with every makeup look and it's excellent as a primer shade. Also, if you want a discrete look – this is just perfect for it!  ova nijansa će se savršeno uklopiti!
George & Weezie – satin beige shade with yellowish-golden shimmer – though it looks more like beige in the packaging, it has this yellowish-golden shine. It's perfect as an inner corner color or applied on you eye brow.
Boy Toy – satin barbie pink color - the formula is identical to the previous shade, I don't find anything special about this shade (probably because I'm not into pink eyeshadows).
Label Whore – this shade is a bit hard to describe in only few words, but along with Milk Chocolate shade, this is my favorite in this palette! It's quite unusual color, when applied looks like MAC Club eyeshadow which really surprised me! The difference is that this shade is darker than Club and more greenish.  Perfect shade for any smokey look!
London Calling – beige/gold color with larger golden particles – though I find this shade perfect for inner corner of my eyes, I find it being a bit annoying cause these huge golden particles tend to end all over my face :/ but still, it's a nice color so I still use it.
Glamazon – satin light brown color - wonderful, smooth formula, and this color can be used with almost any other colors!
Dirt Bag – plum color with tiny golden shimmer – the formula is quite similar to matte eyeshadows, but it's not matte since it has tiny golden shimmer in it. This is also a great color for smokey look or lower lash line.
Party Girl – satin cold purple color with bluish-purple shimmer – shimmer is also a bit larger, particles actually, bot not like with the London Calling shade. This is a pigmented color, but I was hoping it would be more intense though it okay this way too.
Neptune – satin green-turquoise color – wonderful satin formula, the color on my eye lid is identical to the on in the packaging, perfect color to combine with the rest of my green eyeshadow collection!
I'm really pleased with this palette, and no matter how I look at it, I'm really satisfied and I consider it being a good investment! Since every eyeshadow has 0.9 g (for comparison, ArtDeco eyeshadow has 0.8 g!) – this will last me quite a long time!
And now – swatches!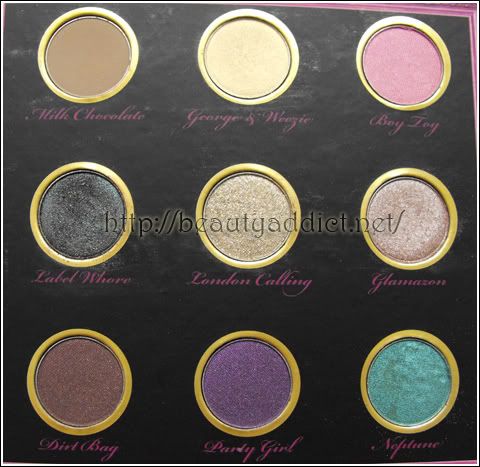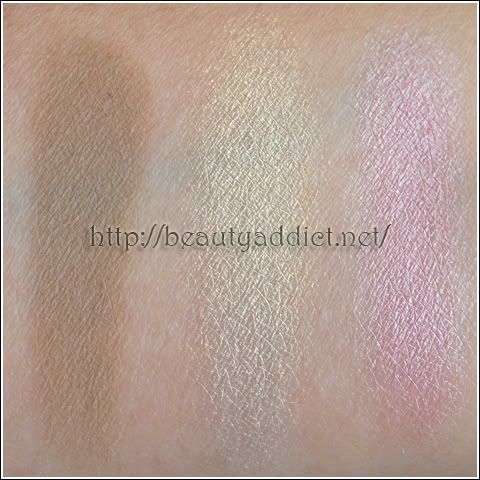 (sunlight)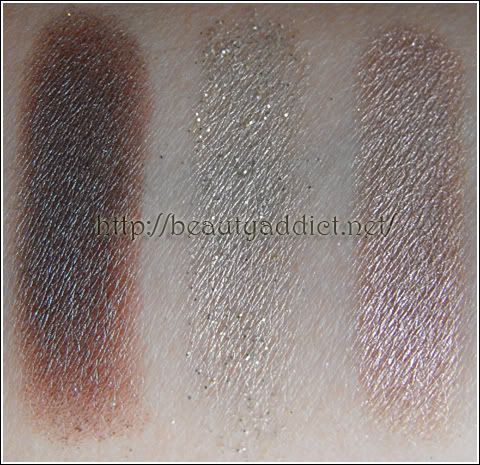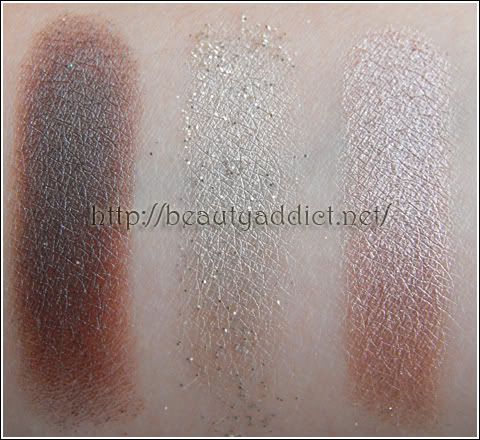 (sunlight)
(sunlight)
Vesna