When I'm bored I'm usually wondering through the Internet in search of something interesting and this time I came across something really interesting – bizarre beauty treatments, and I think you'll find them interesting too. :D It's really unbelievable that the strangest treatment is, the price is higher. Some of them are not for everyone, so if you're sensitive – you might wanna pass on this. :D
Beer bath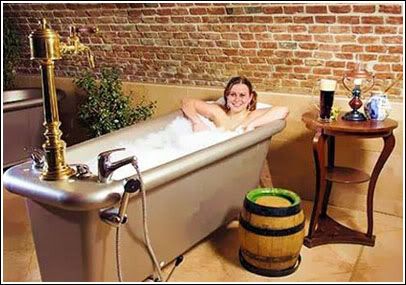 For start, something easy – beer bath. Apparently beer baths can be calming, helps sweat away toxins and even helps with skin problems like acne. It's not recommended to those with high blood pressure, pregnant women or someone who might be tempted to drink it. :D
Fish pedicure?
If you're a fan of pedicure, you might even like this! The fish used in these treatments are called Garra rufa and they are really something – they will help you to get rid of any old and hard skin. They don't bite since they don't have teeth and they've been used for years in some countries for such treatments, especially with people who have skin condition called psoriasis.
Check out few more bizarre beauty treatments!
Bird poop facial

This beauty treatment is extremely popular in Japan and apparently it brings a beautiful glow to your face. Geishas used it to remove their heavy makeup off the faces. Of course, this isn't *any* bird poop, it's nightingale poop, rich in the amino acids and it, as they say, give a soft, porcelain skin. It is of course sterilized before it can be used and to use it, you'd have to pay approx. $180 for a 50-minute treatment.  Huh, some expensive poop.
Bull semen hair conditioner

Yes, you read it right – it's bull semen! :D And it's  Aberdeen Angus bulls from Scotland, to be exact. Their semen is used to create a protein-rich hair mask which helps your hair to be shiny, healthy and protected! I don't know how much there is truth in this, but I hope there is because on liter of it costs approx. 20000 GBP!
Snake massages

Would you be brave for something like this or your back doesn't hurt that much? :D In Israel, for only $80 you can get this special massage and it has calming effect. I'm not really sure is 'calming effect' is worth this, lol. And, for best results combination of big and small snakes should be perfect!
There are some other bizarre beauty treatments but I find these to be the most interesting so I decided to share them with you. Are you impressed and would you like to try any treatment? :D
And just so you're not alone in this world of bizarre beauty treatments, you can give your pet a beauty treatment as well – Color Paw nail polish. These are apparently *it* when it comes to pets and here are the nail polishes: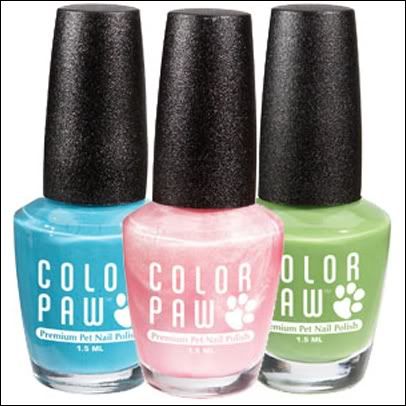 And here's how they look on paws:
What do you think about that? :D
Vesna