Last week I had an opportunity to create a makeup look for a photo shoot and I wanted to show you how it turned out!
MY inspiration was, of course, eyeliner which I can't live without, but in a much thicker version, and for the lips the inspiration was my Halloween Dark Fairy look. :)
I just wanted to thank Anja for being such a great model, and to Nusha for capturing this look with her camera! Also, can't wait to repeat something like this again!
And now let's get down to photos! Please click on them to see them in bigger format cause I had to post them in thumb versions since they are a bit too big to be posted here in full size. :)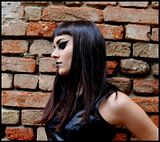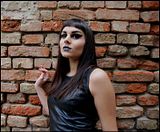 Check out more photos and what products I used!
This last photo isn't accurate because the lightning is 'off' (Anja, of course, isn't this yellow in person :D) but I wanted you to see how this look actually looks like in front. :)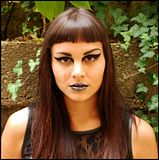 Used products:
foundation – Kanebo & Mary Kay
catrice mineral compact powder in #120 Pastel Beige
essence denim wanted gel liner – black
black matte eyeshadow from the  120 palette
catrice kohl eye pencil – black
TMM silver glitter – Leucite
And, that's it!
How do you like this look? :)
Vesna