I really love gifts, especially beauty ones and if possible – the ones I chose myself. :D
Yesterday I visited Yves Rocher store and I received this as a gift:
Blackberry edt
Blackberry Silky Lotion

Californian Almond Jardins du Monde Shower Cream

Monoi de Tahiti dry oil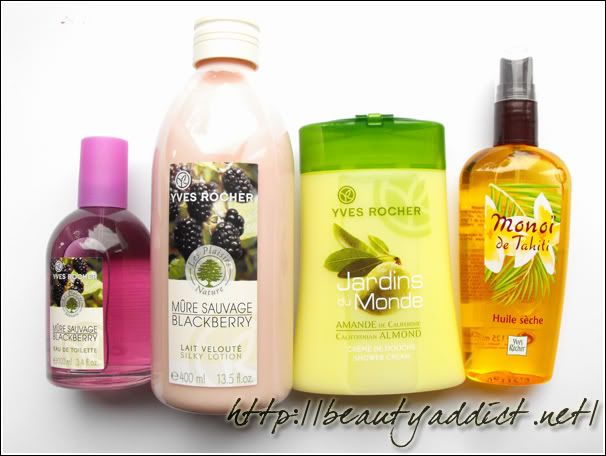 I think that the only Blackberry product I still haven't tried is their soap, but I will get that soon to complete my Blackberrycollection (I got shower gel some time ago). Also, to mention that their edt's are $11 and they contain 100 ml (3.4 fl.oz.) while Zara edt are $16 and they contain only 30 ml.
I've tried the Californian Almond Cream Shower before and I chose it again since I think it's my favorite Yves Rocher Shower Cream!
And, I also got Monoi de Tahiti dry oil, I haven't tried it before but I've tried sample of it and well, it was love at first smell! It smells lovely and it's long lasting on my skin!
What have you received lately?
Vesna